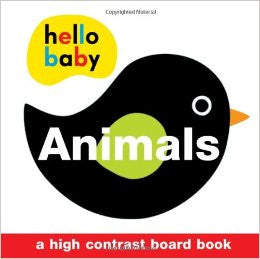 Hello Baby Animals by Roger Priddy (Board Book)
A black cat against a white background, a white rabbit on black, a bold blue butterfly…the high-contrast pictures and colors in this beautifully illustrated book will captivate babies' attention and stimulate their developing sight as they look at and learn about their very first animals.
*Despite our best efforts to predict the demand for books, the magical spells we use sometimes fail us. So to check if we have the book in-stock before you place your order, contact us at 6702 2452 or drop us an email at myimaginationkingdom@gmail.com
Reading Level: 0+
Reviews:
"This is one of my 8 month old's favourite books. The high contrast pictures are attention-catching and the pictures are cute. The construction of the book is great for taking infant abuse, and the fact that it's made from sustainable forests is a plus!!"
"High Contrast board book for babies. Newborn's book, to help with colors and contrast."
Click here for the original reviews
Related products