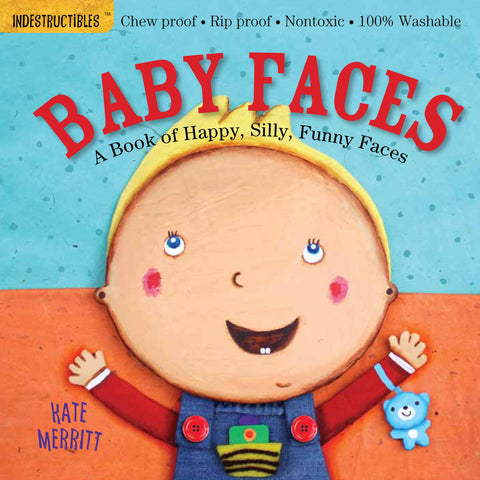 Indestructibles: Baby Faces by Kate Merritt (Washable Book)
Indestructibles are the books built for the way babies read. They are 100 percent baby-proof, chew-proof, rip-proof, and drool-proof. Printed on a unique nontoxic, paperlike material that holds up to anything babies can throw at it—gumming, spilling, dragging across the floor— Indestructibles are the little books that could. They're indestructible. And if they get dirty, just throw them in the washing machine or dishwasher.

Baby Faces features baby's favorite thing: pictures of other babies. It's a book for parents and children to share together the many moods of a baby.
*Despite our best efforts to predict the demand for books, the magical spells we use sometimes fail us. So to check if we have the book in-stock before you place your order, contact us at 6702 2452 or drop us an email at myimaginationkingdom@gmail.com
Reading Level: 0+
Reviews:
"Finally, a book my six-month-old son can sink his teeth into! Literally! The book is made for babies to chew on it. The illustrations are colorful too."
"This book is very cute, and clever. The pictures of the baby faces though out almost take up the whole entire page, and are the main source of illistration within the book. This book is cute because some of the babies are brushing their teeth, sleeping, or laying with their favorite stuffed animal. You could easily engage a child by asking what face they make when they are doing those things, or which one is their favorite. This book is silly, and any child would enjoy looking through this book."
Click here for the original reviews
Related products