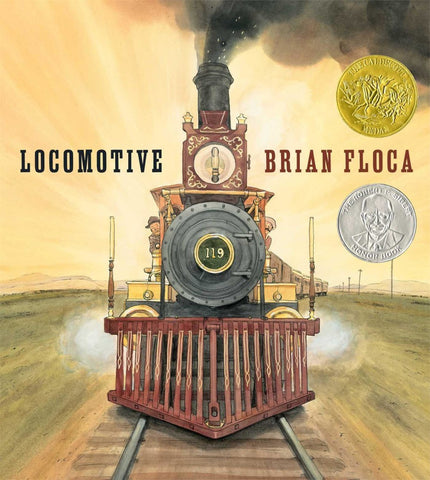 Locomotive by Brian Floca (Hardback) Winner of 2014 Caldecott Medal
The Caldecott Medal Winner, Sibert Honor Book, and New York Times bestseller Locomotive is a rich and detailed sensory exploration of America's early railroads, from the creator of the stunning Moonshot.

It is the summer of 1869, and trains, crews, and family are traveling together, riding America's brand-new transcontinental railroad. These pages come alive with the details of the trip and the sounds, speed, and strength of the mighty locomotives; the work that keeps them moving; and the thrill of travel from plains to mountain to ocean.

Come hear the hiss of the steam, feel the heat of the engine, watch the landscape race by. Come ride the rails, come cross the young country!
*Despite our best efforts to predict the demand for books, the magical spells we use sometimes fail us. So to check if we have the book in-stock before you place your order, contact us at 6702 2452 or drop us an email at myimaginationkingdom@gmail.com
Reading Level: 6+
Reviews:
"This book is amaaaaaaaazing!!! Readers travel west in the summer of 1869 with a family who is hoping to start a new life. Text gives readers tons of information from the sights and the sounds to the machinery and the people who work on the locomotive. Watercolor, ink, gouache, and acrylic illustrations give readers a variety of views from up close details of the locomotive to vignettes of the different stopping points along the trip.

A lengthy note on the locomotive and sources used in writing this book follows the family's journey and endpapers are chocked full of information about the Union Pacific and Central Pacific lines that constructed the transcontinental railroad as well as a detailed view of a steam engine.

This book is a must for train enthusiasts and a book that will appeal to kids who like transportation, history, and learning about how things work. Highly recommended for grades 4th and up."
"This book takes you cross country by someone who certainly knows their stuff. The research into this book (detailed a little bit at the back) was well done and then presented in a way that's easy to read and understand. The sights and sounds and smells are all there, and you come away feeling like you've experience this train ride.

Loves the explanations on the end papers a lot. To an adult who loves history and how things work, this becomes a treasure for them to enjoy as much as the child did the train ride. This wins on all fronts and becomes a favorite. :)"
Click
here
for the original reviews
Related products