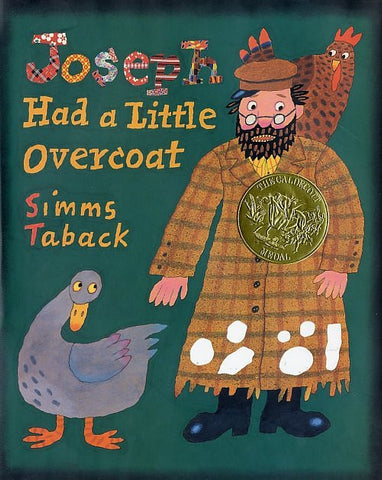 Joseph Had a Little Overcoat by Simms Taback (Hardback) Winner of 2000 Caldecott Medal
Joseph had a little overcoat, but it was full of holes—just like this book! When Joseph's coat got too old and shabby, he made it into a jacket. But what did he make it into after that? And after that? As children turn the pages of this book, they can use the die-cut holes to guess what Joseph will be making next from his amazing overcoat, while they laugh at the bold, cheerful artwork and learn that you can always make something, even out of nothing.
*Despite our best efforts to predict the demand for books, the magical spells we use sometimes fail us. So to check if we have the book in-stock before you place your order, contact us at 6702 2452 or drop us an email at myimaginationkingdom@gmail.com
Reading Level: 4+
Reviews:
"This book proves to me that you truly can make something out of nothing. If you don't understand what I mean... read this book! The way this book is written and put together is quite amazing. With every page that you turn, it is fun to see what Joseph comes up with next. His overcoat gets old so he turns it into a jacket. His jacket gets too old so he turns it into a vest... so forth and so on...

There comes a time where all of that material turns into a tiny button and when that becomes lost, Joseph thinks he has absolutely nothing left. One day he decides that his nothing can become something and he writes a book about it. This is a wonderful book to let children know that they don't need everything in the world to be fulfilled."
"I really enjoyed this book because I had previously read it aloud to the children I worked with at a daycare center this summer. The kids loved it and so did I because with the cutouts the reader gets to see how the jacket is slowly being reduced down to smaller articles of clothing. This gives object permanence to the story for young readers because they are connecting that the coat is becoming the next item (jacket, vest, tie, etc.). I also liked how the story could be read but also many people have made it into a song, this can appeal to children even more and get them excited about the book. The illustrations are very interesting too because they almost look like felt collages, this gives the reader a sense of the fabric that Joseph is wearing. I think that this book is very fun and very beneficial for younger readers."
Click here to read the original reviews
Related products