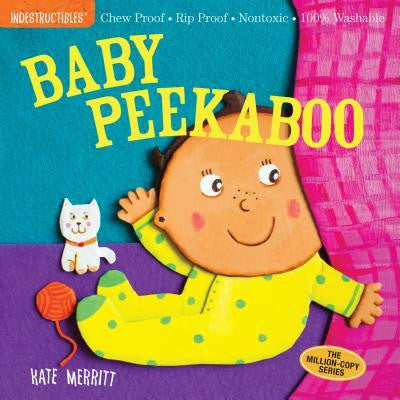 Indestructibles: Baby Peekaboo by Kate Merritt (Washable Book)
Indestructibles are the books built for the way babies read. They are 100 percent baby-proof, chew-proof, rip-proof, and drool-proof. Printed on a unique nontoxic, paperlike material that holds up to anything babies can throw at it—gumming, spilling, dragging across the floor— Indestructibles are the little books that could. They're indestructible. And if they get dirty, just throw them in the washing machine or dishwasher.

Featuring the second set of titles by Kate Merritt, whose distinctive and colorful collage illustrations are as adorable to parents as they are to babies, here is a new Indestructibles that is a joy to read aloud. Baby Peekaboo celebrates the favorite playtime game while teaching the concept of object permanence. "Who's hiding behind the toys? Peekaboo! It's Puppy!" Simple, engaging text encourages language development, and each spread is filled with sweet details.
*Despite our best efforts to predict the demand for books, the magical spells we use sometimes fail us. So to check if we have the book in-stock before you place your order, contact us at 6702 2452 or drop us an email at myimaginationkingdom@gmail.com
Reading Level: 0+
Reviews:
"I purchased this for my 9 month old Granddaughter. She loves to tear, bite and eat any paper she can get her hands on. I thought she would be the perfect tester to see if these adorable books really are " chew proof". She started off fascinated by the pictures but the urge to bite and chew soon overcame the lure of the illustrations. She tried her best, biting, chewing and pulling with hands and teeth. These books really are indestructible! Beautifully illustrated with a few little words on each page. Highly recommended as a first book for baby."
"A great favorite of all their peek-a-boo books because each answer ends in the person currently playing peek-a-boo. For example, "Who's hiding behind the curtains? Peekaboo! It's Mommy!" To which my littles diligently repeat, Mommy!

The illustrations are sweet and simple enough that I can ask the children to point to the toy airplane, the stuffed rabbit, or the coffee mug and they know exactly where to find those objects."
Click here for the original reviews
Related products