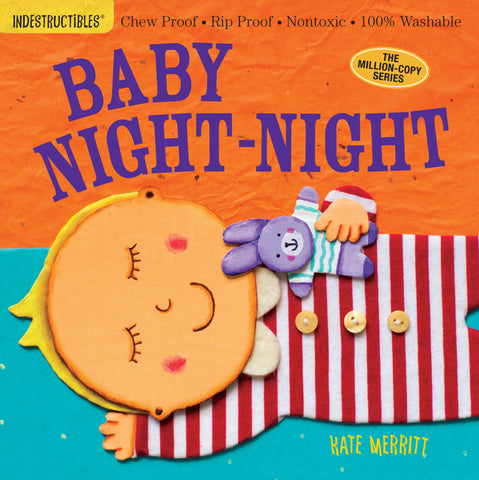 Indestructibles: Baby Night-Night by Kate Merritt (Washable Book)
Indestructibles are the books built for the way babies read. They are 100 percent baby-proof, chew-proof, rip-proof, and drool-proof. Printed on a unique nontoxic, paperlike material that holds up to anything babies can throw at it—gumming, spilling, dragging across the floor— Indestructibles are the little books that could. They're indestructible. And if they get dirty, just throw them in the washing machine or dishwasher.

Featuring the second set of titles by Kate Merritt, whose distinctive and colorful collage illustrations are as adorable to parents as they are to babies, here is a new Indestructibles that is a joy to read aloud. Baby Night-Night makes the bedtime ritual—putting on pajamas, reading a story, and the good-night kiss—a special time for parents and children. Simple, engaging text encourages language development, and each spread is filled with sweet details.
*Despite our best efforts to predict the demand for books, the magical spells we use sometimes fail us. So to check if we have the book in-stock before you place your order, contact us at 6702 2452 or drop us an email at myimaginationkingdom@gmail.com
Reading Level: 0+
Reviews:
"This picture book is holding up very well to everyday handling, and my children do seem to like having me read it. There isn't actually a story, though each successive page does feature activities which might lead to bedtime, so I have been able to point to the story to say, "look, this little one brushes her teeth before bed, just like you do". Perhaps this helps the kids put themselves into the story, perhaps not. Each child pictured is unique to that one page. But this book has helped my kids to learn the words faucet and curtains, which is a plus."
Click here for the original review
Related products