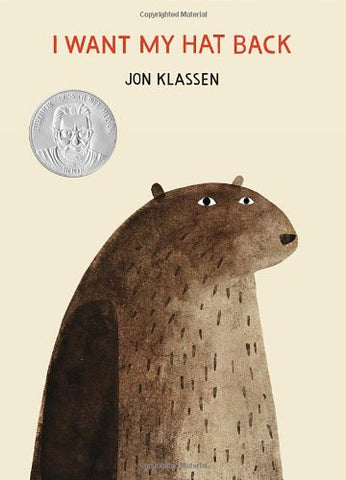 I Want My Hat Back by Jon Klassen (Hardback) Winner of 2012 Theodor Seuss Geisel Award Honor
A New York Times Best Illustrated Children's Book of 2011!

A picture-book delight by a rising talent tells a cumulative tale with a mischievous twist.

The bear's hat is gone, and he wants it back. Patiently and politely, he asks the animals he comes across, one by one, whether they have seen it. Each animal says no, some more elaborately than others. But just as the bear begins to despond, a deer comes by and asks a simple question that sparks the bear's memory and renews his search with a vengeance. Told completely in dialogue, this delicious take on the classic repetitive tale plays out in sly illustrations laced with visual humor-- and winks at the reader with a wry irreverence that will have kids of all ages thrilled to be in on the joke.
*Despite our best efforts to predict the demand for books, the magical spells we use sometimes fail us. So to check if we have the book in-stock before you place your order, contact us at 6702 2452 or drop us an email at myimaginationkingdom@gmail.com
Reading Level: 4+
Reviews:
"Oh, this it too adorable, nope a bit worldly-wise, but cute too. So funny! What a hoot. The story is simple. A bear has lost his beloved hat and searches for it, asking those along his way if they have seen it. I loved the whole story, although I can imagine some little kids or sensitive kids might find it hilarious but some might be freaked out a bit by it too.

It's a really fun read aloud book, and for families who have kids with a wicked sense of humor, this book can be enjoyed by all family members.

The illustrations are perfection. The animals are all depicted wonderfully (I adore the deer!) and the colors used are ideal. I really loved the pictures."
"The dark tale of a bear who has lost his hat. I'm not quite sure the hat suits him though, being small, red and pointy. But, it's his hat and he wants it back. The bear asks all the animals in the wood if they've seen it - each time getting a slightly different, but ultimately negative answer - until one animal asks him to describe the hat and he realises he actually saw it several pages before on the head of an animal that felt the need to answer very defensively. Rushing back through the forest he confronts the thief, gets his hat back, and in turn answers a little too defensively when asked where the rabbit has gone...

Not sure my nephews necessarily understand the dark twist, but the adult reading it certainly enjoyed it. One star deducted mostly because the book clearly has a sticker on it saying signed by the author - but there is no signature anywhere in the book that we can find!"
Click here for the original reviews
Related products