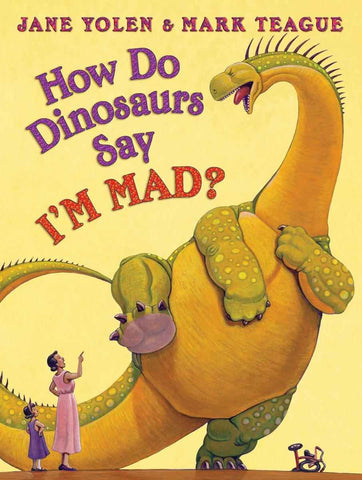 How Do Dinosaurs Say I'm Mad? by Jane Yolen (Hardback)
Illustrations and rhyming text explore some of the things that dinosaurs might do when they are angry--and how they should control their tempers.
*Despite our best efforts to predict the demand for books, the magical spells we use sometimes fail us. So to check if we have the book in-stock before you place your order, contact us at 6702 2452 or drop us an email at myimaginationkingdom@gmail.com
Reading Level: 3+
Reviews:
"This is one of my daughter's favorite books, and the one we are reading nightly. Sometimes we have some temper tantrum issues and I love that this book is teaching my kids more effective ways to manage their emotions when they get upset. On top of that, my daughter is really sounding out the words and actually reading now, and this is her favorite book to read to Mommy and Daddy. I love how her face lights up when she finishes a sentence- "I'm READING!!", that's what she says. Now because of this book, we also practice counting to ten and taking a deep breath when we are upset. Works every time!"
"If you've ever wondered what dinosaurs do when they're angry, this book is for you. Dinosaurs have huge temper tantrums, apparently. And their (very disapproving) parents (human!) give them The Look as they meltdown and misbehave. Illustrations of the peevish, rampaging dinosaurs are hysterical. Kids and adults will enjoy this funny, rhyming story. SPOILER: And, yes, the dinosaurs do clean up their messes, apologize for their bad behavior, and make up with everyone in the end."
Click here to read the original reviews. 
Related products