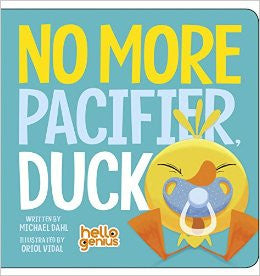 Hello Genius: No More Pacifier, Duck by Michael Dahl (Board Book)
Little Duck loves his pacifier, but he is getting bigger and doesn't need it anymore. It's time for Little Duck to make a big decision and give up his pacifier for good.
*Despite our best efforts to predict the demand for books, the magical spells we use sometimes fail us. So to check if we have the book in-stock before you place your order, contact us at 6702 2452 or drop us an email at myimaginationkingdom@gmail.com
Reading Level: 2+
Reviews:
"super cute & bright pictures accompany this simple toddler appropriate story about a "big" duck having to give up his pacifier. My son never had a dummy, so I'm only guessing... but I think this would be very helpful for parents struggling to get their young child to give up their dummy. children are much more inclined to do something if they see others doing it too, even if it is a storybook duck."
"Aimed at children aged 2 to four years old, this book has lovely colourful illustrations and tells the story of Duck learning to no longer need a pacifier (aka a dummy in the UK!). It shows how Duck starts by only using the pacifier at night and eventually is grown up enough to sleep without one, too.

A lovely book, beautifully illustrated with superb, cute and funny images that will appeal to youngsters and help them understand the text, this will certainly inspire some of the readers to give up their pacifier, too, if only to be more grown up. The images also help to make this subject humorous which will also help youngsters relate to the subject in their own lives. "
Click here for the original reviews
Related products