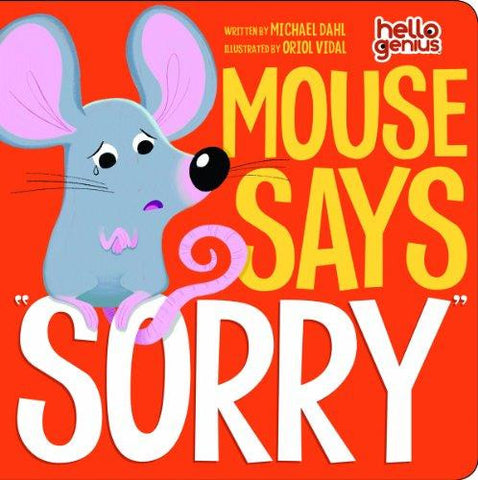 Hello Genius: Mouse Says "Sorry" by Michael Dahl (Board Book)
As mouse rushes home to dinner, he apologizes for tracking mud everywhere he goes.
*Despite our best efforts to predict the demand for books, the magical spells we use sometimes fail us. So to check if we have the book in-stock before you place your order, contact us at 6702 2452 or drop us an email at myimaginationkingdom@gmail.com
Reading Level: 2+
Reviews:
"This one is super cute and it's easy for my daughter to tell what's going on and WHY the little mouse is saying "Sorry!" When I read it, I elaborate what the mouse is saying... ("Sorry ducky!" or "Sorry turtle!") and explain a little better what happened ("Uh oh! Ducky was painting a picture and the mouse got mud on it!"). But the dialogue in the book is equivalent to the other in the series, so I won't count that against the book. :) Really cute!"
"Another great book in the "Hello Genius" series. Squirt asks for this book all the time, says the "Sorry!" parts, and really enjoys participating in the reading."
Click here for the original reviews
Related products