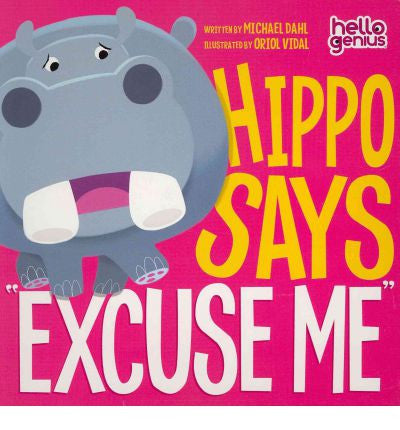 Hello Genius: Hippo Says "Excuse Me" by Michael Dahl (Board Book)
Hippo demonstrates his good manners as he makes his way in crowded situations.
*Despite our best efforts to predict the demand for books, the magical spells we use sometimes fail us. So to check if we have the book in-stock before you place your order, contact us at 6702 2452 or drop us an email at myimaginationkingdom@gmail.com
Reading Level: 2+
Reviews:
"Oh my gosh, this book is so adorable! When reading it to my children I actually giggled because the picture was so cute. I laugh, I snicker, but I seldom giggle. This book is a great book to teach manners to children. While reading my son said "What there is no room for a tiny chick, that is not very nice". It created dialogue with my children about the importance of being kind and being a good person. I absolutely loved this book. I have found another series to dive into."
"Cute. I'm always on the look out for fun ways to introduce manners to my toddler. This book is bright in color and simple in phrases that I'm sure she'll repeat over and over again after a few reads. Reading this book and seeing the squished places that Hippo gets into and needs to get out reminds me of a day of shopping in London. Excuse Me! "
Click here for the original reviews
Related products