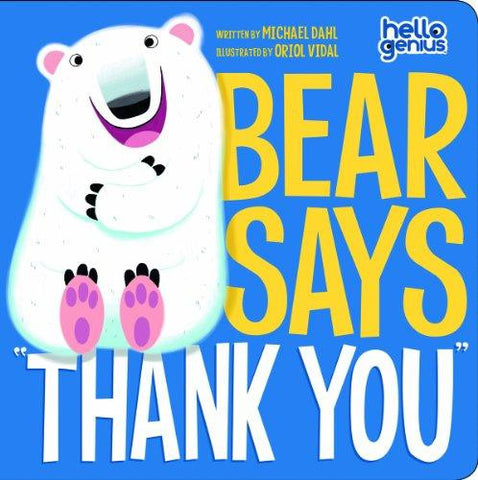 Hello Genius: Bear Says "Thank You" by Michael Dahl (Board Book)
Bear remembers to use his manners and say "thank you" as he makes a special card for his mother.
*Despite our best efforts to predict the demand for books, the magical spells we use sometimes fail us. So to check if we have the book in-stock before you place your order, contact us at 6702 2452 or drop us an email at myimaginationkingdom@gmail.com
Reading Level: 2+
Reviews:
""Bear has BIG plans" and he needs mom's help. This adorable book about a bear and his mom perfectly addresses using the phrase "thank you" in the context of creativity and a warm parent-child relationship. Bear needs supplies for his art project and he always remembers to say "thank you". The surprise comes at the end when someone else thanks him. Repetitive text, bright expressive pictures, and a sweet story line make this a perfect pick for little ones everywhere with their own big plans."
"Ages 1-5. Great story about saying "Thank You" and "You're Welcome." The pages are colorful, the artwork is clean and simple, and the font is large and has plenty of white space. Great for print awareness and children can participate by saying "thank you" along with the book."
Click here for the original reviews
Related products