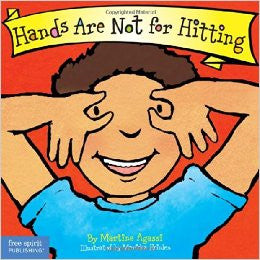 Best Behaviour Series: Hands Are Not For Hitting by Martine Agassi (Board Book)
It's never too soon for children to learn that violence is never okay, hands can do many good things, and everyone is capable of positive, loving actions.

In this bright, inviting, durable board book, simple words and full-color illustrations teach these important concepts in ways even very young children can understand.

Created in response to requests from parents, preschool teachers, and childcare providers, this book belongs everywhere young children are. Includes tips for parents and caregivers.
*Despite our best efforts to predict the demand for books, the magical spells we use sometimes fail us. So to check if we have the book in-stock before you place your order, contact us at 6702 2452 or drop us an email at myimaginationkingdom@gmail.com
Reading Level: 2+
Reviews:
"The edition that I read was the hardcover, small 22 page book. I don't care if the book is recommended for toddlers ages 0–3, I would read this book for 1st and 2nd graders too! This book explains many different things that you can do with your hands: waving, saying hello, drawing, playing, building sand castles, eating & drinking, keeping safe, helping, hugging, etc! "
"This cute little book reminds toddlers that hitting isn't very nice and talks about what things you can do with your hands that are so much nicer. My two year old loved this book."
Click here for the original reviews
Related products