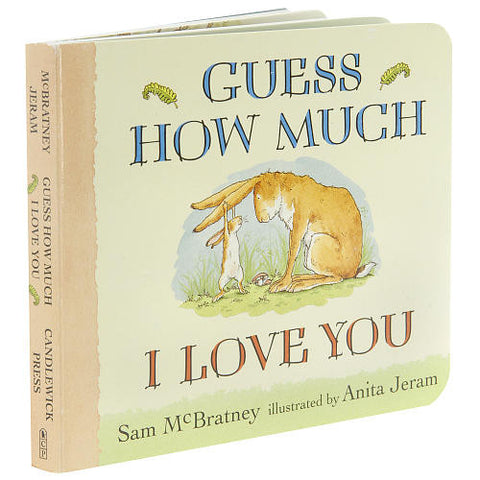 Guess How Much I Love You by Sam McBratney (Board Book)
"Guess how much I love you," says Little Nutbrown Hare. Little Nutbrown Hare shows his daddy how much he loves him: as wide as he can reach and as far as he can hop. But Big Nutbrown Hare, who can reach farther and hop higher, loves him back just as much. Well then Little Nutbrown Hare loves him right up to the moon, but that's just halfway to Big Nutbrown Hare's love for him.
*Despite our best efforts to predict the demand for books, the magical spells we use sometimes fail us. So to check if we have the book in-stock before you place your order, contact us at 6702 2452 or drop us an email at myimaginationkingdom@gmail.com
Reading Level: 2+
Reviews:
"This is THE best bedtime story, in my opinion. It was a nightly ritual for my first daughter, and it holds a very special place in our hearts. When it says that the dad bunny leans down and kisses the little one's head, Leah would always lean down and kiss the picture. The page became a little scummy from kiddie goo, and it's PRECIOUS! I will forever cherish my little girl's kisses in the book."
"This is a sweet story where the big bunny (maybe a daddy bunny?--nice touch as there are relatively few books with dads) and the little bunny try to express how much they love one another. The ending phrase seemed a bit trite but perhaps it's because I have heard the phrase so much now, on everything from t-shirts to wall art, that it seems cliche. Not sure if this book was the first one to use it...?"
Click here for the original reviews
Related products