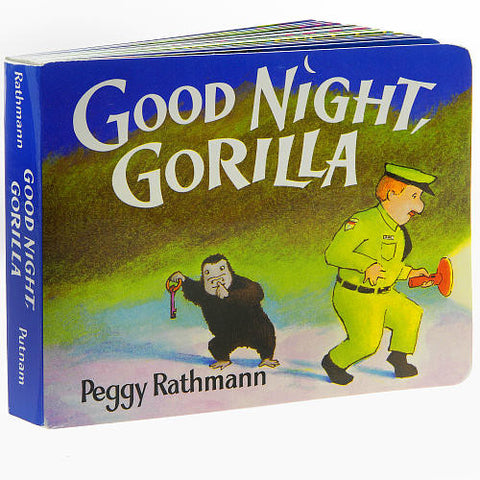 Good Night, Gorilla by Peggy Rathmann (Board Book)
"Good night, Gorilla," says the zookeeper. But mischievous Gorilla isn't quite ready to go to sleep. He'd rather follow the zookeeper on his rounds and let all of the other animals out of their cages. Little night owls can sneak along with Gorilla and see who gets the last laugh in this riotous goodnight romp. Practically wordless yet full of expressive art and hilarious, adorable detail, this book is sure to become a beloved part of children's own bedtime rituals. "In a book economical in text and simple in illustrations, the many amusing, small details, as well as the tranquil tome of the story, make this an outstanding picture book." --The Horn Book 
"A clever, comforting bedtime story." --School Library Journal
*Despite our best efforts to predict the demand for books, the magical spells we use sometimes fail us. So to check if we have the book in-stock before you place your order, contact us at 6702 2452 or drop us an email at myimaginationkingdom@gmail.com
Reading Level: 2+
Reviews:
"This book was read at a mixed-age party and I'm sure that the adults laughed as much as the children! It has quickly become a classic, featuring the cleverly pictured sneaky antics of a renegade gorilla.
Our young hero steals the keys from a zookeeper and frees all the animals, who follow the keeper home at night. Hilarious "lights out" confusion ensues with a comical surprise ending!
34 pages, with only ten different words, the expressive, colorful pictures say it all. This playful book is appropriate for infants, toddlers, and the beginning reader as well. A delightful romp, and a surefire hit! One of those few treasured books that you'll keep for years to come."
"I used to read this to my preschoolers by request - it was a permanent fixture in our library and I was not allowed to swap it out for new books! My kids would look for it if I took it away and I would have to bring it back. The Gorilla lets out all the animals in the zoo and follows the zoo keeper home! Mrs zoo keeper is not amused with her roomful of animals and Mr. zoo keeper has to return all the animals to their cages."

Click here for the original reviews
Related products