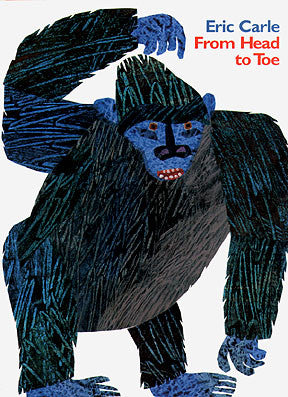 From Head To Toe by Eric Carle (Hardback)
What does an elephant do? It stomps its foot. Can you? From the creator of such beloved classics as The Grouchy Ladybug and The Mixed-Up Chameleon comes this interactive story that invites kids to imitate animal movements. Watching giraffes bend their necks or monkeys wave their arms is fun, but nothing could be better than joining in. From their heads down to their toes, kids will be wriggling, jiggling, and giggling as they try to keep up with these animals!
*Despite our best efforts to predict the demand for books, the magical spells we use sometimes fail us. So to check if we have the book in-stock before you place your order, contact us at 6702 2452 or drop us an email at myimaginationkingdom@gmail.com
Reading Level: 2+
Reviews:
This is a fantastic book! The large, colorful pictures and the simple, clear text keep children bending and stretching right along with the animals! Still, unlike many of the reviewers who loved this for their one-year-olds, we found that this book didn't work for my active, not very verbal daughter when she was one (even though she sat for other books). We pulled it out again around the time she turned 2 and she LOVED IT. This book was a huge hit. Now at almost 4 it is still one of her favorites. Even if she's tired at bedtime she gets on the floor to do her donkey kicks along with the donkey! My older daughter also reported that this was one of her preschool teacher's favorite storytime books. I would say that for many children this book, despite it's deceptively simple pictures and text, is more appropriate for older children (age 2-4). This is a book I buy all the time for 2nd birthdays - It's always a hit! (especially good for active kids who prefer being "active" listeners!) This is an excellent choice for a book that will last kids for years! 
Great product with wonderful large pictures. Nice thick pages and is easy to read along with children and easy for their little fingers to maneuver as well.

Click here for the original reviews
Related products