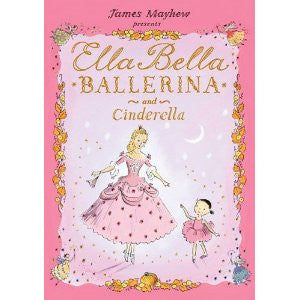 Ella Bella Ballerina and Cinderella by James Mayhew (Hardback)
Ella Bella loves her ballet class, which is conducted by the kindly Madame Rosa at an old theatre that seems touched by magic. One day, when Ella loses one of her slippers, Madame Rosa lends her another pair for dancing--and is then reminded of Cinderella and her story of the lost slipper. Madame Rosa recounts the tale to her students, and Ella Bella listens with heightened interest. When their day's lesson has ended Ella lingers at the theatre, then opens Madame Rosa's music box and listens as it plays melodies from the "Cinderella" ballet. Suddenly, Cinderella's fairy godmother magically appears, and Ella Bella is transported into the beloved story of Cinderella. This delightful book's final page describes the ballet "Cinderella, " with music by the great Russian composer, Sergei Prokofiev.
*Despite our best efforts to predict the demand for books, the magical spells we use sometimes fail us. So to check if we have the book in-stock before you place your order, contact us at 6702 2452 or drop us an email at myimaginationkingdom@gmail.com
Reading Level: 7+
Reviews:
"I love James Mayhew's illustrations and his clear love for both visual and performing arts that comes out in his books. My girls love the frilly tutus. So it's a win all around. :) (Thanks, Liz, for alerting me to its existence!)"
"This book was strategically designed to please little girls. Ballerinas, fairies, and Cinderella. Delightful illustrations."
Click here to read the original reviews
Related products