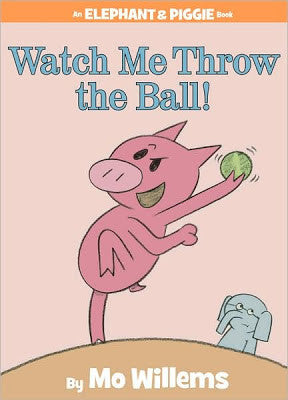 Elephant & Piggie #8: Watch Me Throw The Ball! by Mo Willems (Hardback)
Gerald is careful. Piggie is not.
Piggie cannot help smiling. Gerald can.
Gerald worries so that Piggie does not have to.

Gerald and Piggie are best friends.

In Watch Me Throw the Ball!, Gerald is determined to teach Piggie that ball-throwing is serious business... but Piggie is just as determined to have serious fun.
*Despite our best efforts to predict the demand for books, the magical spells we use sometimes fail us. So to check if we have the book in-stock before you place your order, contact us at 6702 2452 or drop us an email at myimaginationkingdom@gmail.com
Reading Level: 2+
Reviews:
"The Elephant and Piggy Books got my reluctant reader to start. We each take a character to read. It has been fun to see him try our different voices for Elephant and Piggy. Absolutely a 5 star book."
"This book utterly confused my daughter at first as she kept pointing at the ball. A great story of how playing games should be about the fun and not about how far you can throw a ball!"
Click here for the original reviews
Related products