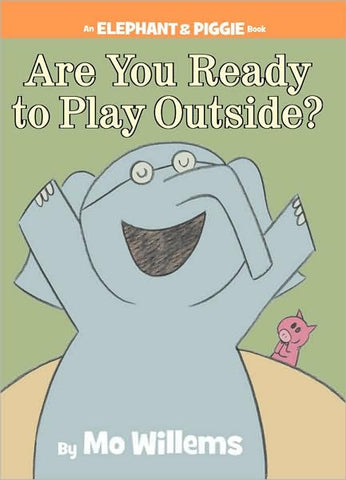 Elephant & Piggie #7: Are You Ready To Play Outside? by Mo Willems (Hardback)
Gerald is careful. Piggie is not.
Piggie cannot help smiling. Gerald can.
Gerald worries so that Piggie does not have to.
Gerald and Piggie are best friends.
In Are You Ready to Play Outside?, Piggie can't wait to go play in the sunshine. But will a rainy day ruin all the fun?
*Despite our best efforts to predict the demand for books, the magical spells we use sometimes fail us. So to check if we have the book in-stock before you place your order, contact us at 6702 2452 or drop us an email at myimaginationkingdom@gmail.com
Reading Level: 2+
Reviews:
"Piggie and Gerald are so excited to play outside until all of the sudden, it starts to rain. Poor Piggie is not happy about the rain and doesn't know how "anyone can play outside with all this rain!?!" But with the unintentional help of two little worms, Piggie and Gerald get an idea and everything seems right again. The major theme of this book is friendship. I think this book would be a great tool to incorporate into a lesson to young elementary students about the importance of friendship and generosity. Gerald willingly helps Piggie have a fun day outside without Piggie even needing to ask. Teaching young students about being the importance of being generous and not expecting anything in return, as well as the importance of friendship is an important life lesson that should be taught at a young age. "
"I'm sure if I spent more than 5 seconds thinking about each book, I could find some sort of "moral" or "lesson" a child could learn from the story, but some of them just hit home quicker than others, I guess. This is one of those for me. Just because you plan isn't going to work out doesn't mean you can't have fun doing something else! My 5-year-old is a planner. She comes up with *ideas* then comes and tells me what we're going to do. Sometimes the plan works, but usually going to Chuck E Cheese once a week or getting Sonic drinks after school EVERY DAY isn't feasible... so this is a good one for her."
Click here for the original reviews
Related products