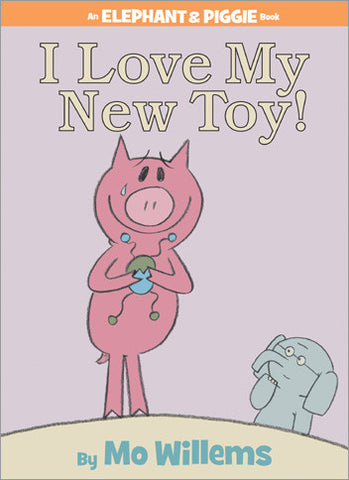 Elephant & Piggie #5: I Love My New Toy! by Mo Willems (Hardback)
Gerald is careful. Piggie is not.
Piggie cannot help smiling. Gerald can.
Gerald worries so that Piggie does not have to.

Gerald and Piggie are best friends.

In I Love My New Toy!, Piggie can't wait to show Gerald her brand new toy. But will an accidentally broken toy accidentally break a friendship?
*Despite our best efforts to predict the demand for books, the magical spells we use sometimes fail us. So to check if we have the book in-stock before you place your order, contact us at 6702 2452 or drop us an email at myimaginationkingdom@gmail.com
Reading Level: 2+
Reviews:
"This was a very well written children's book and had a very sound message. The pig gets a new toy that he loves very much so, and shows the elephant what his toy is. When the elephant plays with it he ends up breaking it. The pig and the elephant get in a big fight over the toy and no longer wish to be friends. A little critter comes along and shows the two that the toy is not broken and that is what the toy is supposed to do. They become friends again and realize that friendship is more important than a silly toy. The moral of the story is, no matter what you have, your friends will always be more important than a material item. I would recommend this to parents who are trying to teach the kids how to read and understand the importance of friendship."
"Mo Willems is quickly becoming one of my go-to authors for picture books. His characters Piggie and Gerald are real; children can relate to them and see themselves in them. This story can help children process their feelings about a very common event—a friend breaking a toy—without being too preachy. Love the simple illustrations, easy to read text, and facial expressions of the characters. Great book!"
Click here for the original reviews
Related products