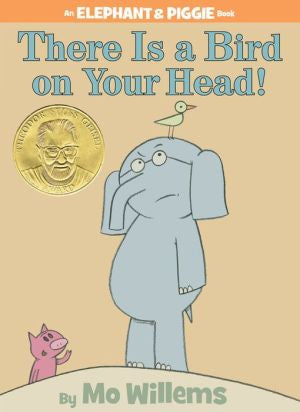 Elephant & Piggie #3: There Is a Bird on Your Head! by Mo Willems (Hardback)
Gerald is careful. Piggie is not.
Piggie cannot help smiling. Gerald can.
Gerald worries so that Piggie does not have to.

Gerald and Piggie are best friends.

In There Is a Bird On My Head!, Gerald discovers that there is something worse than a bird on your head-two birds on your head! Can Piggie help her best friend?
*Despite our best efforts to predict the demand for books, the magical spells we use sometimes fail us. So to check if we have the book in-stock before you place your order, contact us at 6702 2452 or drop us an email at myimaginationkingdom@gmail.com
Reading Level: 2+
Reviews:
"Another book by one of our favorite authors, Mo Willems, and a Theodor Seuss Geisel Award winner as well. Given to the most distinguished American book for beginner readers, the award fits this book, and this author, well. Easy to read (probably a level 1 reader), it is lovable by both young and old alike. Even my 3 yr old twins can follow the story and get a kick out of the exasperated expressions on the characters faces and the fact that there's a bird on the elephant's head. Even though my 5 yr old could read these easily to my twins as part of his homework, freeing up some of my time, I can never quite bring myself to let him. At least whenever we get a new one. I love them so much myself, I want it to be a family event. This book is another favorite for us."
"What can I say. Hilarious. Again Angus was crying with laughter. Mo Willems just has a way that really really tickles his funny bones."
Click here for the original reviews
Related products