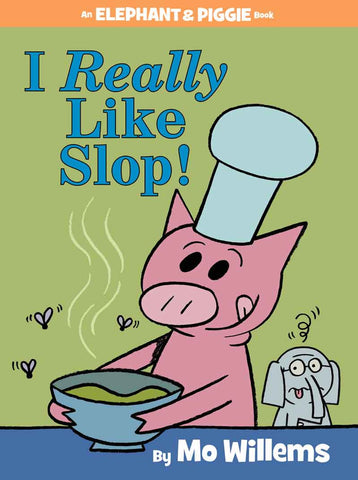 Elephant & Piggie #24: I Really Like Slop! by Mo Willems (Hardback)
Gerald is careful. Piggie is not.
Piggie cannot help smiling. Gerald can.
Gerald worries so that Piggie does not have to.

Gerald and Piggie are best friends. In I Really Like Slop!, Piggie invites Gerald to try her favorite food . . . slop. But Gerald is not so sure he's going to like it. At all.
*Despite our best efforts to predict the demand for books, the magical spells we use sometimes fail us. So to check if we have the book in-stock before you place your order, contact us at 6702 2452 or drop us an email at myimaginationkingdom@gmail.com
Reading Level: 2+
Reviews:
"Piggie really likes slop, it is a "part of pig culture." Gerald thinks it looks and smells awful (although being well mannered does not come out and say so directly). It even has flies - "that's how you know it's ripe." Piggie offers Gerald a taste, to which he immediately yells "No way!" Piggie is sad, and so Gerald decides to try it - a very little bit. He doesn't like it, but he is glad he tried it because it is important to Piggie.

Although I think this is an important message for kids of the dominant culture, it might not be right for kids who are self conscious because their food is different. I suggest talking with your kids about how Elephant reacts and what was good and what could be improved for when they are faced with a friend eating something that is different."
"A SUPER important lesson for the kiddos, wrapped up as another day of hijinks for our friends Piggie and Gerald. I liked the emphasis on just how important slop is to Piggie - the fact that he likes it A LOT, that he worked hard on it, that it's an important part of pig culture, etc. It reinforces it for the kids without becoming overbearing, and it really lets them know what it means to him when Gerald won't even try it. I also like that Piggie was pretty chill about Gerald not liking the slop - the important thing was that he respected his friend enough to try it. Well done!"
Click here for the original reviews
Related products