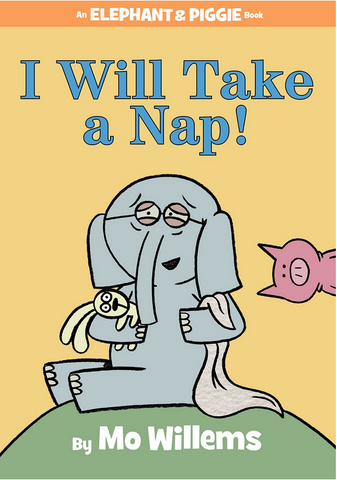 Elephant & Piggie #23: I Will Take a Nap! by Mo Willems (Hardback)
Gerald is careful. Piggie is not.
Piggie cannot help smiling. Gerald can.
Gerald worries so that Piggie does not have to.

Gerald and Piggie are best friends.

In I Will Take a Nap! Gerald is tired and cranky. Will Piggie be in his dreams? Or will she keep Gerald from dreaming at all?
*Despite our best efforts to predict the demand for books, the magical spells we use sometimes fail us. So to check if we have the book in-stock before you place your order, contact us at 6702 2452 or drop us an email at myimaginationkingdom@gmail.com
Reading Level: 2+
Reviews:
"Wow. For once an author actually addressed what a child truly can identify with. We all know that grumpy feeling where we need a nap, but no child will likely ever say that they do. I'm hoping that in reading this book the child can be put more in touch with their emotions and be able to truly understand why they do what they do, and just when they really DO need a nap. Or if all else fails, the story is somewhat funny and enjoyable to read so it can win on that point. Parents - does this book work on your children?"
"A charming tale about needing naps and taking them. I laughed through the whole book."
Click here for the original reviews
Related products