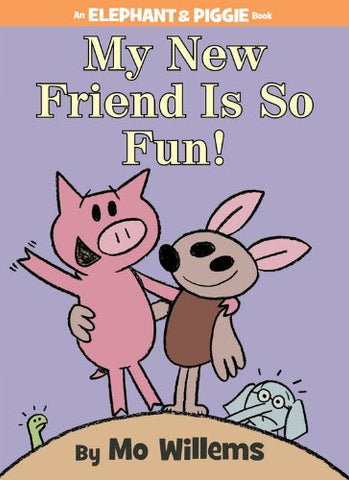 Elephant & Piggie #21: My New Friend Is So Fun! by Mo Willems (Hardback)
Gerald is careful. Piggie is not.
Piggie cannot help smiling. Gerald can.
Gerald worries so that Piggie does not have to.

Gerald and Piggie are best friends.

In My New Friend Is So Fun! Piggie is having so much fun with her new friend. But where does that leave Gerald?
*Despite our best efforts to predict the demand for books, the magical spells we use sometimes fail us. So to check if we have the book in-stock before you place your order, contact us at 6702 2452 or drop us an email at myimaginationkingdom@gmail.com
Reading Level: 2+
Reviews:
"I just can't get enough of Elephant and Piggie. I marvel as to how Willems keeps coming up with new ideas. This latest entry into the series explores a common worry children have about their friends finding a new friend they might like better. Willems explore this topic with his usual charm and fun. Kudos to the author for yet another book that will be a winner with kids and their parents."
"My New Friend is So Fun! by Mo Willems – All Ages – How does he do it? Loved once again. So I loved this book because I knew it would be a book addressing that fear/worry about your close friend making other friends and leaving you behind… how Mo perfectly pulled this book off? It is Mo Willems, that is how. Loved loved loved… If all friends could balance off one another like Gerald and Piggie it would be lovely. *I loved that there were FOUR voices in this book and when my son and I read it aloud, we had fun reading some lines jointly, etc."
Click here for the original reviews
Related products