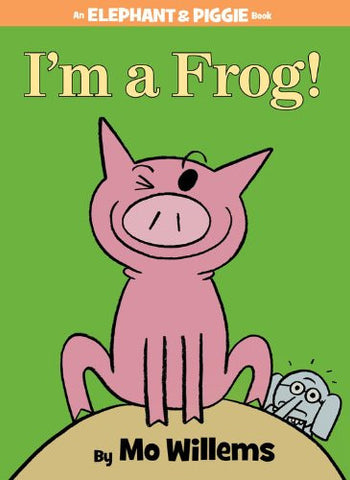 Elephant & Piggie #20: I'm a Frog! by Mo Willems (Hardback)
Gerald is careful. Piggie is not.
Piggie cannot help smiling. Gerald can.
Gerald worries so that Piggie does not have to.

Gerald and Piggie are best friends.

In I'm a Frog! Piggie has some ribbiting news! Can Gerald make the leap required to accept Piggie's new identity?
*Despite our best efforts to predict the demand for books, the magical spells we use sometimes fail us. So to check if we have the book in-stock before you place your order, contact us at 6702 2452 or drop us an email at myimaginationkingdom@gmail.com
Reading Level: 2+
Reviews:
"Literal and practical Gerald isn't quite sure what to make of imaginative and impulsive Piggie's declaration that she is now a frog. My 4-year-old and I are big fans of Mo Willems' Elephant and Piggie books. This one is a real favourite because it is delightful to read out loud, and the message is that pretending can be fun and that there is nothing wrong with being silly and playful. This is a great book for reading out loud, and for kids who are just starting to read. It is also excellent for pre-schoolers who are just starting to get into pretend role-play. "
"Hooray! Frog and Piggie are back. Piggie teaches Elephant about pretending. Piggie tells Elephant, "Everyone pretends." Elephant asks, "Even grown-up people?" Piggie's expression is perfect! "All the time.""
Click here for the original reviews
Related products