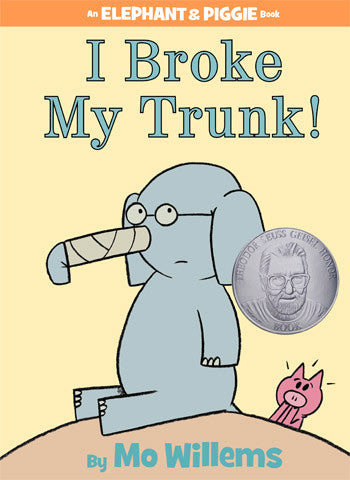 Elephant & Piggie #14: I Broke My Trunk! by Mo Willems (Hardback)
Gerald is careful. Piggie is not.

Piggie cannot help smiling. Gerald can.

Gerald worries so that Piggie does not have to.

Gerald and Piggie are best friends.

In I Broke My Trunk! Gerald tells Piggie the long, crazy story about breaking his trunk. Will Piggie end up with a long, crazy story of her own?
*Despite our best efforts to predict the demand for books, the magical spells we use sometimes fail us. So to check if we have the book in-stock before you place your order, contact us at 6702 2452 or drop us an email at myimaginationkingdom@gmail.com
Reading Level: 2+
Reviews:
"We love Mo Willems! I think we'll get this whole collection for the kids for Christmas because they all like him. This one was no exception and it was the book we used to introduce Willems to Grandma. Even she clapped her hands in delight as she watched the kids giggle at the silly story about how Gerald broke his trunk. Not enough words to make it a level 1 book, but still a great read for the whole family."
"I read this today to a bunch of preschoolers, who all seemed to really enjoy the humor, though their parents liked it even more. The words are so big that the parents would start laughing as they read them from across the room before I could even get to that part."
Click here for the original reviews
Related products