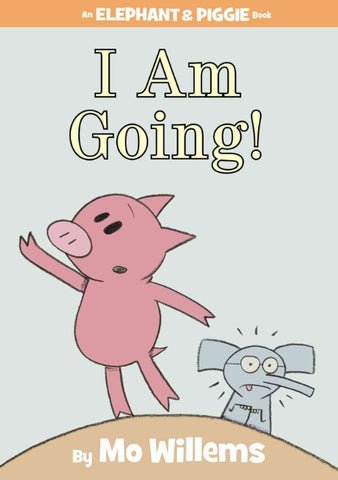 Elephant & Piggie #11: I am Going! by Mo Willems (Hardback)
Gerald is careful. Piggie is not. Piggie cannot help smiling. Gerald can.

Gerald and Piggie are best friends.

In I Am Going!, Piggie ruins a perfectly good day by telling Gerald she is going. If Piggie goes, who will Gerald skip with, play Ping-Pong with, and wear silly hats with?
*Despite our best efforts to predict the demand for books, the magical spells we use sometimes fail us. So to check if we have the book in-stock before you place your order, contact us at 6702 2452 or drop us an email at myimaginationkingdom@gmail.com
Reading Level: 2+
Reviews:
"Super cute book, like all of elephant and piggie books by Mo Willems. Piggie is going and leaving elephant, and elephant is unhappy and asks him to stay. Until elephant asks why piggie is leaving, which is the cute twist in the story. Great for beginning readers, kindergarteners."
"My girls each chose one character, either the Pig or the Elephant, and read that voice throughout the book! The had a blast doing it too! These books are SO GOOD!"
Click here for the original reviews
Related products