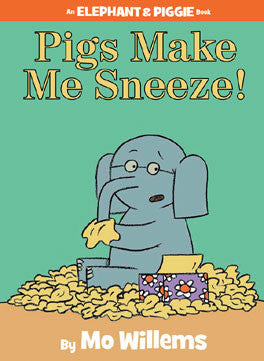 Elephant & Piggie #10: Pigs Make Me Sneeze! by Mo Willems (Hardback)
Gerald is careful. Piggie is not.
Piggie cannot help smiling. Gerald can.
Gerald worries so that Piggie does not have to.

Gerald and Piggie are best friends.

In Pigs Make Me Sneeze!, Gerald believes he is allergic to his best friend! Will he have to stay away from Piggie forever?
*Despite our best efforts to predict the demand for books, the magical spells we use sometimes fail us. So to check if we have the book in-stock before you place your order, contact us at 6702 2452 or drop us an email at myimaginationkingdom@gmail.com
Reading Level: 2+
Reviews:
"This is a cute book to start to interest students in reading. Piggie and Gerald are best friends, but our dilemma is when Gerald starts to think he's allergic to Piggie! They're best friends, how could this be? The story is something that most children can relate to because at one point in time, they've probably felt that they were 'allergic' to their best friend, or something silly. It's a fun, relatable story that's a quick read so it's more than perfect for a story session in a classroom setting."
"I love the Elephant and Piggie books. They are fun to read and kids absolutely love them. In this story, Elephant thinks he is allergic to Piggie and is heart-broken when he thinks they can no longer be friends due to his allergy. But Elephant is so excited to be reunited with his best friend when he finds out it isn't an allergy, he just has a cold."
Click here for the original reviews
Related products