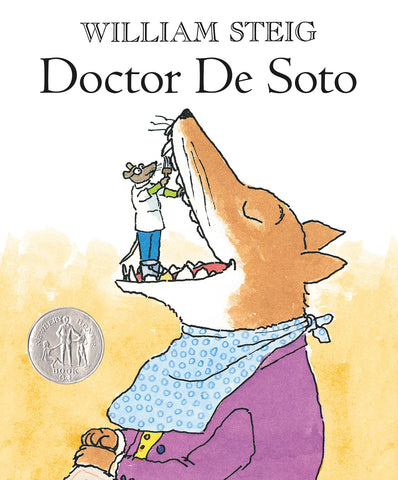 Doctor De Soto by William Steig (Paperback) Winner of 1983 Newbery Award Honor
"Doctor De Soto, the dentist, did very good work." With the aid of his able assistant, Mrs. De Soto, he copes with the toothaches of animals large and small. His expertise is so great that his fortunate patients never feel any pain.
Since he's a mouse, Doctor De Soto refuses to treat "dangerous" animals—that is, animals who have a taste for mice. But one day a fox shows up and begs for relief from the tooth that's killing him. How can the kindhearted De Sotos turn him away? But how can they make sure that the fox doesn't give in to his baser instincts once his tooth is fixed? Those clever De Sotos will find a way.
Doctor De Soto is a 1982 New York Times Book Review Notable Children's Book of the Year and Outstanding Book of the Year, a 1983 Boston Globe - Horn Book Awards Honor Book for Picture Books, and a 1983 Newbery Honor Book.
*Despite our best efforts to predict the demand for books, the magical spells we use sometimes fail us. So to check if we have the book in-stock before you place your order, contact us at 6702 2452 or drop us an email at myimaginationkingdom@gmail.com
Reading Level: 6+
Reviews:
"I never imagined that a story about a dentist could be charming, but this one is. I enjoyed the story well enough, but what tickled me were the illustrations, especially the ones with the mouse dentist being hauled up on pulleys by his wife to work on the teeth of very large animals. I was also charmed because the Desotos reminded me so much of my own dentist and his wife-assistant, an older Romanian couple who live around the corner from me and do excellent work at low prices (just one of the reasons why it's better to live in Queens than Manhattan). There's no physical resemblance, but they have the same unassuming quality of quietly efficient teamwork that I see in Steig's mouse characters. My eight-year-old boy (who is still eager to have picture books read aloud to him despite reading chapter books independently) enjoyed the story a lot, although he was worried for a while about whether a story about a mouse climbing inside of the mouth of a fox was going to end well."
"Another day, another book read to the 2nd graders. I love having this excuse to revisit children's literature. The kids quickly became invested in this story, responding to my prompts with guesses of what would happen to Dr. De Soto, Mrs. De Soto, and the fox. Their speculations were so imaginative! Colorful illustrations and a clear narrative (with complex action verbs!) that flowed from beginning to end."
Click
here
for the original reviews
Related products