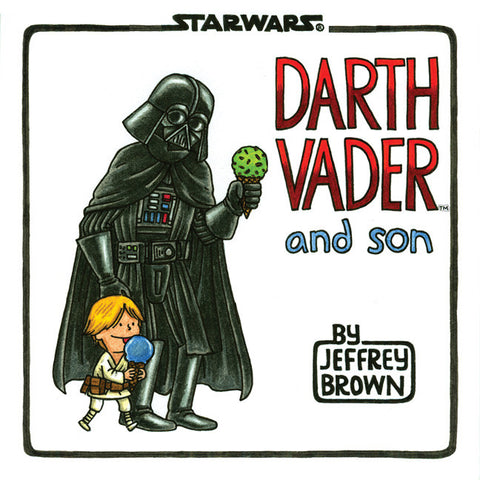 Darth Vader and Son by Jeffrey Brown (Hardback)
What if Darth Vader took an active role in raising his son? What if "Luke, I am your father" was just a stern admonishment from an annoyed dad? In this hilarious and sweet comic reimagining, Darth Vader is a dad like any other except with all the baggage of being the Dark Lord of the Sith.

Celebrated artist Jeffrey Brown's delightful illustrations give classic Star Wars moments a fresh twist, presenting the trials and joys of parenting through the lens of a galaxy far, far away. Life lessons include lightsaber batting practice, using the Force to raid the cookie jar, Take Your Child to Work Day on the Death Star ("Er, he looks just like you, Lord Vader!"), and the special bond shared between any father and son.
*Despite our best efforts to predict the demand for books, the magical spells we use sometimes fail us. So to check if we have the book in-stock before you place your order, contact us at 6702 2452 or drop us an email at myimaginationkingdom@gmail.com
Reading Level: 8-9
Reviews:
"Soooo funny! Sooo awesome! Love it! Brown is immensely talented and brings such warmth and humor to this work. The various scenes from Vader's life with kiddo Luke are fresh and fun, but also wonderfully familiar to those who know kids and "Star Wars". The situations are ones that most parents/caregivers face but are set within the Star Wars universe. For example, Vader and Luke at the toy store and Luke wants the Jar-Jar Binks doll (perhaps the only doll in the universe more annoying than Tickle Me Elmo?). It is enough to make the mighty Darth recoil in terror, LOL! There are too many great scenes to choose just one favorite! I will definitely seek out his other works. Highly recommended to Star Wars fans -- especially those with kids in their lives. If you don't have kids it might still be funny seeing Darth Vader as a father and doing "everyday" type things. But if you aren't familiar with the SW movies you probably won't get most of the humor."
"This is the perfect book for any young Star Wars fan or parent of young kids. Each page is its own story as we watch Darth Vader go through traditional parent activities with his son Luke (and in a few panels his daughter Leah shows up as well). Some pages illustrate a humorous scene with a well known phrase, such as "aren't you a little short for a stormtrooper", but with a new twist. Each page is well executed and FUNNY which is elevated the more of a Star Wars fan you are, the funnier the book reads. This book earns my highest rating because it perfectly executes its goal. It maintains the personalities of the characters and places that we know and love from the series but puts them into real world situations. Big fun!"
Click here for the original reviews 
Related products