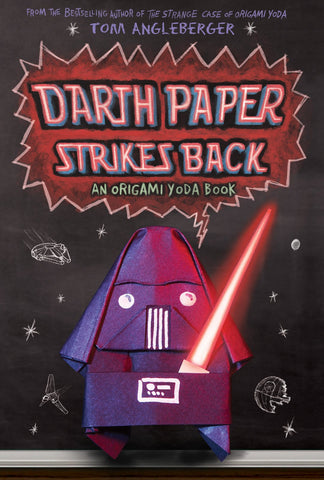 Origami Yoda #2: Darth Paper Strikes Back by Tom Angleberger (Hardback)
NOT SUCH A LONG TIME AGO, IN A MIDDLE SCHOOL NOT SO FAR, FAR AWAY...

Something amazing happened. A weird kid named Dwight made an origami finger puppet of Yoda. (That wasn't the amazing thing--just typical Dwight weirdness.) the amazing thing was that Origami Yoda gave great advice. He could predict the date of a pop quiz, tell a guy if a girl likes him or not, and keep kids from embarrassing themselves in a dozen different ways. Most of the sixth graders were convinced he was using the Force.

But now, a year later, it's a dark time at McQuarrie Middle School. Dwight has been suspended and may be expelled, which means no more Origami Yoda. Even worse, Darth Paper, a puppet created by Dwight's nemesis, Harvey, has taken Yoda's place. He spews insults and evil and just may be responsible for getting Dwight kicked out in the first place. Now the kids of McQuarrie are trying to build a case to save Dwight. This is their case file.
*Despite our best efforts to predict the demand for books, the magical spells we use sometimes fail us. So to check if we have the book in-stock before you place your order, contact us at 6702 2452 or drop us an email at myimaginationkingdom@gmail.com
Reading Level: 8-9
Reviews:
"As a general rule, I do not read sequels. I'm SO glad I made an exception. I liked Darth Paper Strikes Back even more than Origami Yoda. Bravo, Tom Angleberger!"
"Over the summer Harvey a non - origami Yoda believer made an Origami Darth Vader who suspended Dwight Tharp the one who made origami Yoda from school. Now the gang is back to make a case file to save Dwight from the school board in an another delightful read. Will Darth Paper turn to the good side and help Dwight or the dark side of the force have Darth paper have Dwight kicked out? Find out in the hilarious sequel of the strange case of origami Yoda.

I enjoyed this book i hope you did/do too."
Click here for the original reviews 
Related products