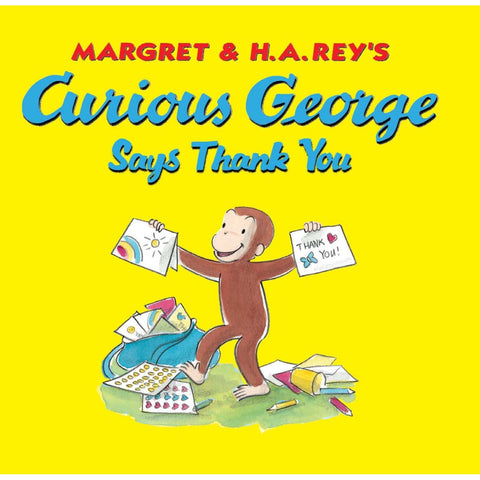 Curious George Says Thank You by H A Rey (Paperback)
George is thrilled to get a thank-you card in the mail from his friend Betsy. It makes him want to send thank-you cards to everyone he knows. Who can he thank? George tries to remember all the people who have been nice to him, but tracking them down to deliver his homemade cards soon becomes a challenge. Now published for the first time as a stand-alone title, this lighthearted lesson in good manners shows that saying thank you never goes out of style!
*Despite our best efforts to predict the demand for books, the magical spells we use sometimes fail us. So to check if we have the book in-stock before you place your order, contact us at 6702 2452 or drop us an email at myimaginationkingdom@gmail.com
Reading Level: 6+
Reviews:
"Out of all the Curious George books I've read throughout the years, this is probably my favorite! How sweet of George to think of others after he receives his own thank you card for a gift he gave a friend. He thinks of all the people who have done special things for him and so he and the man made homemade cards to give out to his friends. For once George didn't get into trouble, and for once he wasn't hyper etc. Just sweet... and he teaches the children reading-listening about him about the importance of letting someone know you appreciate things they've done for you. Wonderfully written!"
Click here for the original review
Related products