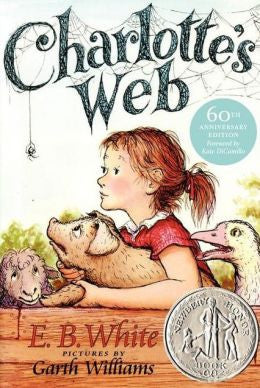 Charlotte's Web by E.B. White (Paperback)
"I don't want to die!
Save me, somebody!
Save me!"

The tale of how a little girl named Fern, with the help of a friendly spider, saved her pig Wilbur from the usual fate of nice fat little pigs.

(From Puffin Books)

An affectionate pig named Wilbur befriends a spider named Charlotte, who lives in the rafters above his pen. In this story of friendship, hardship, and the passing on into time, White reminds readers to open their eyes to the wonder and miracle found in the simplest of things.
*Despite our best efforts to predict the demand for books, the magical spells we use sometimes fail us. So to check if we have the book in-stock before you place your order, contact us at 6702 2452 or drop us an email at myimaginationkingdom@gmail.com
Reading Level: 7+
Reviews:
"It's always difficult for me to try and pick a favorite book from my childhood, but I love this story so much that, if I had to choose, I think it would be a front runner. It's just such a beautiful story and so elegantly written. I open the book occasionally to random pages and just start reading. Without exception, I always find something on the page to make me smile, or laugh, or cry. This is the kind of book you hug to your chest. If your older now and have never read this, don't hesitate any longer. Don't worry if you think you have out grown it because that would be impossible. This story is timeless."

"What makes this book so good is its handling of deep issues like finding one's purpose in life, fitting in/sticking out (i.e. conformity vs. individuality), friendship, acting selflessly, and death in a way that makes them appropriate and understandable for children. White uses characterization effectively to create characters that the reader can not only picture clearly, but also relate to and empathize with. This is no small feat when the main character is a pig! Finally, the amount of realistic details that White gives allow the reader to become fully immersed in Wilbur's barnyard world, complete with its 12-part pig slop mix and the smell of manure mixed with rain, hay, and rotten egg!"

Click here for the original reviews
Related products