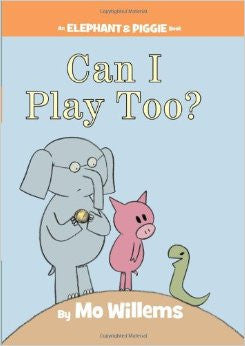 Elephant & Piggie #12: Can I Play Too? by Mo Willems (Hardback)
Gerald is careful. Piggie is not.
Piggie cannot help smiling. Gerald can.
Gerald worries so that Piggie does not have to.
Gerald and Piggie are best friends.
In Can I Play Too? Gerald and Piggie meet a new snake friend who wants to join in a game of catch. But don't you need arms to catch?
*Despite our best efforts to predict the demand for books, the magical spells we use sometimes fail us. So to check if we have the book in-stock before you place your order, contact us at 6702 2452 or drop us an email at myimaginationkingdom@gmail.com
Reading Level: 2+
Reviews:
"A book all my children enjoyed. Even the twin 2 yr olds were riveted by this story and the characters. They couldn't wait to see what would happen. I loved the new snake character, at first we thought him a worm, he was so small and cute. A level 1 reading book at best, but a wonderfully typical Willems that any family would be sure to love."
"Can I Play Too? is another book in the pig and elephant series that introduces the theme of acceptance. At the beginning of the story, the two were just playing a normal game of catch until their friend snake came in and asked to play as well. I was surprised at that part because I did not know how the story was going to go. At first, the two were hesitant because they noticed that the snake did not have arms, but the snake was also aware. The best part about this was the fact that the two did not want to say no and wanted to include him, so they tried multiple ways to play catch with the three and they finally figured it out! I really liked that because no matter what the disability was, they still wanted him to join. This could teach people of all ages a good lesson about accepting one another for who they are and to not make them feel any different. Not only that, but in a way, the snake has a disability. That could also help children understand what it means to have something like that and how important it is for everyone to be treated equally."
Click here for the original reviews
Related products