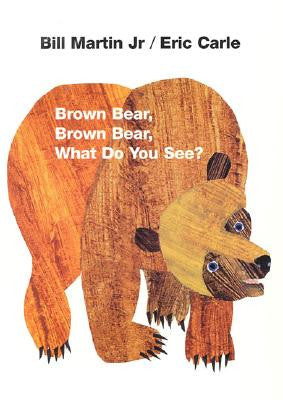 Brown Bear, Brown Bear, What Do You See? by Bill Martin Jr (Board Book)
A big happy frog, a plump purple cat, a handsome blue horse, and a soft yellow duck all parade across the pages of this delightful book. Combined with Martin's sing-song text, Carle's boldly colored collages create unforgettable images of these endearing animals.
*Despite our best efforts to predict the demand for books, the magical spells we use sometimes fail us. So to check if we have the book in-stock before you place your order, contact us at 6702 2452 or drop us an email at myimaginationkingdom@gmail.com
Reading Level: 2+
Reviews:
"Many people may not like this book or think it is too simple a book, not really a story. I think this is a great book. My children love it. It is a perfect book for young children who are just starting to learn letters, their sounds, and words. It is also a great book for those children who may not be great readers. When I taught first grade, I had a few students who weren't able to read. Their confindence level was low and we had a really hard time finding good books that they were able to read independently. But this was one of the few books they enjoyed reading on their own. Any book that can make a child feel like they are a successful reader is a great book in my opinion."
"My Kindergarteners made me read this to them five times on Friday at work. Five times!!!!! By the time I was done, I could tell every word to the story without looking at the pages. Some one please save me from pushy five year olds with a penchant for rhyming books."
Click here for the original reviews
Related products