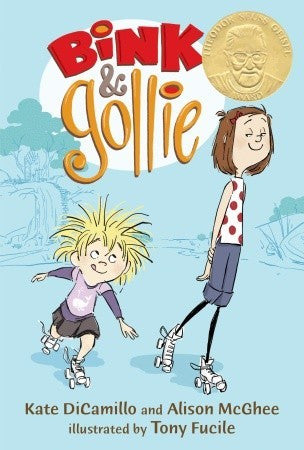 Bink & Gollie by Kate DiCamillo (Paperback) Winner of the 2011 Theodor Seuss Geisel Award
In a brilliant collaboration, best-selling authors Kate DiCamillo and Alison McGhee, along with acclaimed illustrator Tony Fucile, introduce an outrageously funny pair of friends.

Meet Bink and Gollie, two precocious little girls — one tiny, one tall, and both utterly irrepressible. Setting out from their super-deluxe tree house and powered by plenty of peanut butter (for Bink) and pancakes (for Gollie), they share three comical adventures involving painfully bright socks, an impromptu trek to the Andes, and a most unlikely marvelous companion. No matter where their roller skates take them, at the end of the day they will always be the very best of friends. Full of quick-witted repartee, this brainchild of Newbery Medalist Kate DiCamillo and award-winning author Alison McGhee is a hilarious ode to exuberance and camaraderie, imagination and adventure, brought to life through the delightfully kinetic images of Tony Fucile.
*Despite our best efforts to predict the demand for books, the magical spells we use sometimes fail us. So to check if we have the book in-stock before you place your order, contact us at 6702 2452 or drop us an email at myimaginationkingdom@gmail.com
Reading Level: 7+
Reviews:
"Oh. My. Stars!
Absolutely love it.
Have kids? Get this book! Don't have kids? Get this book!
This book has reached the levels of love in our home as any Mo Willems book and DiCamillo's Mercy Watson books.
My daughter will not let it out of her possession or sight.
A totally fun story about two, seemingly opposite, friends.
Just look at the illustrations!
I apparently can't say anything cohesive about this book right now. Perhaps I will come back and write some more lucid thoughts later. Perhaps."
"I loved this book! It is completely charming and remarkable in how clearly it is able to convey both the joys and frustrations of close friendship. I was actually surprised how short/quick-to-read this book is since it looks like a longer picture book/early chapter book but it took me no more than ten minutes to get through. The words are chosen sparingly and sublimely and it's brilliant how well they, coupled with the absolutely marvelous illustrations, convey the tone and characters' thoughts and expressions. I worried at first that some of the ambiguity would bother me (why, exactly, are Bink and Gollie friends since Gollie seems so much older? and does Gollie just hang out in an elaborate tree-house or is that her actual home?) but it just ended up adding to the sense of fun and atmosphere for me. The illustrations could almost tell the story by themselves but I just love the added nuances of character and the wittiness of the dialogue. I don't want to hype this book too much but I know it's already receiving major accolades from the professionals and I think they are deserved :-) It really warmed my heart."
Click here for the original reviews
Related products