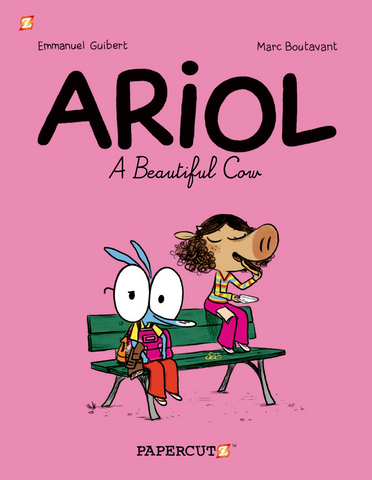 Ariol #4: A Beautiful Cow by Emmanuel Guibert (Paperback)
Petula is a beautiful cow who smells nice, has pretty hair, and makes Ariol tremble when she's around. And even though Ariol's story so far is almost 400 pages long, he still hasn't worked up the courage to tell Petula that he loves her! Instead, he keeps accidentally saying all the wrong things every time she turns around to talk to him in class. Valiant Ariol is finally ready to make his move. Will he soar like Thunder Horse or plummet like, well, like Ariol?

With charming artwork and hilarious vignettes, ARIOL is the perfect series for anyone who started off life as a kid!
*Despite our best efforts to predict the demand for books, the magical spells we use sometimes fail us. So to check if we have the book in-stock before you place your order, contact us at 6702 2452 or drop us an email at myimaginationkingdom@gmail.com
Reading Level: 7+
Reviews:
"I'm addicted to the Ariol books! These are such pleasant slice-of-life stories about anthropomorphic tweeners that as the publisher says "is the perfect series for anyone who started off life as a kid!" The stories in this volume are varied with no particular focus on any character though I'd say perhaps the focus is on school stories this time. As the title implies, as usual, there are a couple featuring Ariol and his crush on Petula, but each time we see Bizzbilla struggling with her crush on Ariol. I just love these stories and the situations. They are cute and funny, but they are so real. Nothing is overdone or overthetop because the author and illustrator have found the perfect element of humour in episodes from the real lives of young teens, their parents and teachers."
"A collection of kids being kids - no better or worse than kids are - plus some dry humor for adults, too."
Click here for the original reviews 
Related products