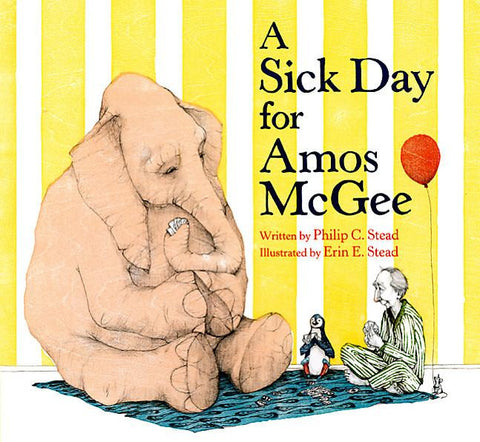 A Sick Day for Amos McGee by Philip C. Stead (Hardback) Winner of 2011 Caldecott Medal
Amos McGee, a friendly zookeeper, always made time to visit his good friends: the elephant, the tortoise, the penguin, the rhinoceros, and the owl.

But one day - "Ah-choo!" - he woke up with the sniffles and the sneezes. Though he didn't make it into the zoo that day, he did receive some unexpected guests. Philip C. Stead's gently humorous tale of friendship and dedication is illustrated by his wife Erin E. Stead's elegant drawings, embellished with subtle hints of color.
*Despite our best efforts to predict the demand for books, the magical spells we use sometimes fail us. So to check if we have the book in-stock before you place your order, contact us at 6702 2452 or drop us an email at myimaginationkingdom@gmail.com
Reading Level: 4+
Reviews:
"This 2010 debut is up for some awards and for good reason. I think it's got a glorious "classic" feel in both the illustrations and the text; it is just so gentle and yet full of humor and imagination and good-heartedness and fun. Amos McGee is the sort of old man that I admire so deeply; one who has taken his old years as a blessing rather than a curse and who shares his time and his wisdom and kind heart with others. In this case, he works at a zoo and spends time with each animal there, getting to know their personalities and interacting with them in ways that they find mutually beneficial. But when Amos is too sick to come to work one day, the animals find a special way to help him feel better.

I read this book while I was sick with a nasty post-Christmas cold and it cheered me no end. Created by a husband and wife team (be sure to check out the sooo cute dedication page) this book is definitely one of my favorites of 2010 and I highly recommend it to anyone looking for a sweet, gentle, humorous story about friendship. "
"I really liked reading this book because it was short and the pictures went along with the story. I think this picture book falls under one of the levels of illustration which is symmetry. The reader can find themselves enjoying reading this book. I think this would be appropriate for 1st and 2nd graders because it's easy to understand for them. The story begins with Amos, an elderly, who works at the zoo. Throughout the day Amos went through a routine; from waking up,to taking the bus to work, and making a quick stop to see his friends. His friends are the elephant, the turtle, the penguin, the rhinoceros, and the owl. Amos spent quality time with them either by playing a game or providing his company. One day Amos woke up feeling sick. That they his friends notice his absence in the zoo. So they decide to go visit him at his home. They then share quality time with him and make him feel better. "

Click
here
for the original reviews
Related products