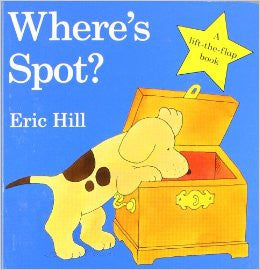 Where's Spot? by Eric Hill (Board Book)
Eric Hill's best-loved cuddly dog has massive toddler appeal and with this sturdy board book searching under the flaps for Spot is guaranteed to be a fun game. Youngsters love the repetition of "Is he in the clock? Is he in the box? Is he under the rug?" and your child will enjoy predicting what's going to happen next at each stage. Babies and toddlers from 1+ will want to return to this again and again.
Reading Level: 1+ 
*Despite our best efforts to predict the demand for books, the magical spells we use sometimes fail us. So to check if we have the book in-stock before you place your order, contact us at 6702 2452 or drop us an email at myimaginationkingdom@gmail.com
Review:
"Where's Spot" is one of the first books that my 8-month-old has let us read to him. It's short, has simple, colorful pictures, and has lots of animals and objects to name and talk about (and every page has a picture of a dog, which he loves). We return to it time and time again. Unlike other lift-the-flap books that we own, the flaps in this book are large and sturdy and relatively easy to grab, so that he is able to lift them himself and peek at the animals behind doors, under rugs, and in closets. I highly recommend this book as a first book to read with your baby. I now use it regularly as a baby shower gift for new moms."
"This is a book my 21-month old 'reads' (either with me or on his own) again and again, and he laughs the whole way through it every time!

He's memorized which animal is in each hiding place and can just about recite the entire book without lifting the flaps, and enjoys it even more when I make the animal sounds to go with the pictures!

I've bought copies for my friends' babies, and we now have copies at each of the grandparents' houses as well!"

Click here for the original reviews
Related products