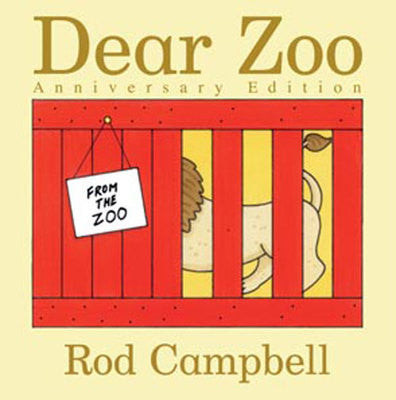 Dear Zoo by Rod Campbell (Board Book)
Now in a Classic Board Book edition, "Dear Zoo" long has been a lap-time favorite. The story starts with a letter to the zoo requesting a pet. But as the colorful flaps reveal, most of the animals are inappropriate--until the perfect one arrives. 
*Despite our best efforts to predict the demand for books, the magical spells we use sometimes fail us. So to check if we have the book in-stock before you place your order, contact us at 6702 2452 or drop us an email at myimaginationkingdom@gmail.com
Reading Level: 1+
Review:
'My daughter has loved this book from the very beginning. She was fascinated by the animals revealed when I lifted the flaps, and then had a great time learning how to lift the flaps herself as she grew older. She's a year old now and brings it to me to read to her more than any other book that we have. She gets a kick out of the animal sounds we make when we lift the flaps, too. It's the only lift-the-flap book we have that she hasn't managed to tear off any flaps. I think this book has been instrumental in showing her how much fun books can be - I highly recommend it."

"My little guy is just over a year old and he loves this book. The flaps on the different pages keeps him interested all the way to the end. In fact after we are done reading the book, he takes it and flips the pages and lifts the flaps!! Very cute!"

Click here for the original reviews
Related products