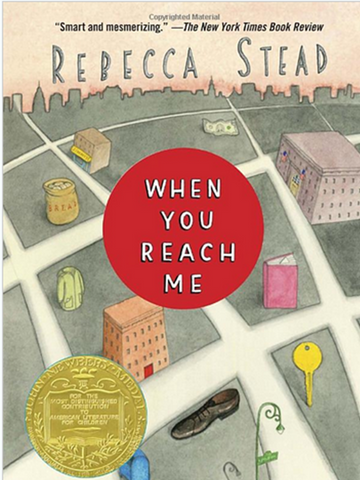 When You Reach Me by Rebecca Stead (Paperback) Winner of 2010 Newbery Medal
This remarkable novel holds a fantastic puzzle at its heart. 

By sixth grade, Miranda and her best friend, Sal, know how to navigate their New York City neighborhood. They know where it's safe to go, and they know who to avoid. Like the crazy guy on the corner.

But things start to unravel. Sal gets punched by a kid on the street for what seems like no reason, and he shuts Miranda out of his life. The apartment key that Miranda's mom keeps hidden for emergencies is stolen. And then a mysterious note arrives, scrawled on a tiny slip of paper. The notes keep coming, and Miranda slowly realizes that whoever is leaving them knows things no one should know. Each message brings her closer to believing that only she can prevent a tragic death. Until the final note makes her think she's too late.
*Despite our best efforts to predict the demand for books, the magical spells we use sometimes fail us. So to check if we have the book in-stock before you place your order, contact us at 6702 2452 or drop us an email at myimaginationkingdom@gmail.com
Reading Level: 10-12
Reviews:
"This book is definitely written for the younger teen but that doesn't take away from how good this book. There are a lot of little clues but I didn't realize they were clues until the mystery was solved. Very well written, well fleshed out likable characters."
"Originally got this for my daughter (13) who said I should read it and she was right. A fascinating tale that is so well written. Every word and action has relevance to the rest of the story and to see it resolve itself is wonderful.
Fascinating to, at the end, realise how well the whole thing is crafted. A book for kids and adults"
Click here for the original reviews
Related products