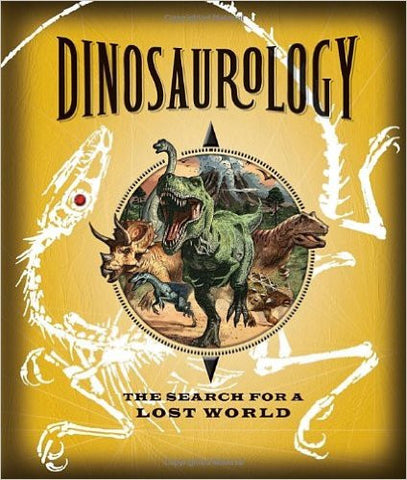 Dinosaurology: The Search for a Lost World by Candlewick Press (Hardback)
Could dinosaurs still roam the earth? In the newest discovery in the 'Ology series, readers come face-to-face with living, breathing dinosaurs.

What if dinosaurs had not died out? What if whole colonies of the prehistoric beasts had survived on a remote island off the coast of South America? The latest adventure in the best-selling 'Ology series offers young dinosaur lovers a tantalizing taste of what that would be like. The year is 1907, and young adventurer Raleigh Rimes is on an expedition to South America with real-life explorer Percy Fawcett. There he discovers the unimaginable: living dinosaurs roaming the rain forest! Presented as a journal detailing their extraordinary (and hairraising) encounters with the amazing beasts — fearsomeTyrannosaurus rex, pack-hunting allosauruses, predatory velociraptors, armored triceratops, and other species —Dinosaurology is filled with flaps and booklets offering dinosaur lore, along with such novelties as a sample of dinosaur skin, a pouch of ground stegosaurus horn, and more.
*Despite our best efforts to predict the demand for books, the magical spells we use sometimes fail us. So to check if we have the book in-stock before you place your order, contact us at 6702 2452 or drop us an email at myimaginationkingdom@gmail.com
Reading Level: 10-12
Reviews:
"Similar to "Egyptology" in premise linking a fictional long lost journal to Arthur Conan Doyle's work "The Lost World". Great fun to read together with my daughter who loved this and was really enjoying the 'exploration' side of the adventure. All good, great fun to get kids into reading more." 
"I really love all of these Ology books, and I knew I had to read this one, since it's about dinosaurs. And I wasn't disappointed at all. As always with these books, I found it to be very interesting, and I liked the spin that they took always. I can't wait to read more of these, and I hope another is published soon."
Click here for the original reviews
Related products