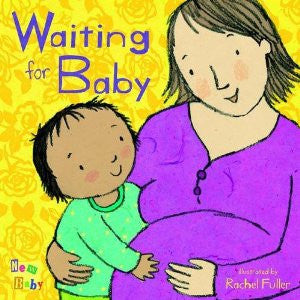 Waiting for Baby by Rachel Fuller (Board Book)
The arrival of a new sibling can be a confusing and frustrating time for a toddler. This book offers help to prepare them for the downfalls and delights of having a younger brother or sister.
*Despite our best efforts to predict the demand for books, the magical spells we use sometimes fail us. So to check if we have the book in-stock before you place your order, contact us at 6702 2452 or drop us an email at myimaginationkingdom@gmail.com
Reading Level: 1+
Reviews:
"This is, after all, a book about "Waiting." Excellent illustrations cover not being able to fit in Mommy's lap, doctor visits, buying things for Baby, helping Daddy so Mommy can rest, being left behind when Mommy goes to hospital, seeing new baby for the first time. Just wish there had been one more page about what to do with Baby after s/he is here. Very good book for child 18 mo. to 5 years."
"My 20-month old daughter loves this book, as do I. The illustrations are beautiful and allow you to tell the story however you choose (there is no text). It's a great way to personalize the "expecting a new baby" story. We talk about our doctor, our favorite toy store, our grandma coming to visit, ect. It's also fun to hear how Dad tells the story. A great book for toddlers who will soon be big brothers or sisters."
Click here for the original reviews 
Related products