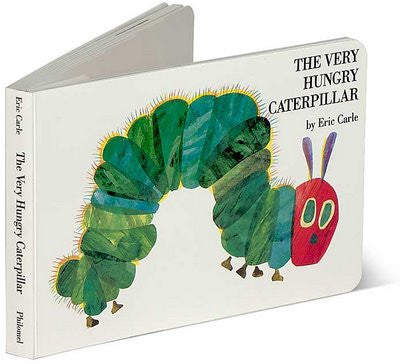 The Very Hungry Caterpillar by Eric Carle (Board Book)
"The very hungry caterpillar literally eats his way through the pages of the book—and right into your child's heart..."
—Mother's Manual
"Gorgeously illustrated, brilliantly innovative..."
—The New York Times Book Review
*Despite our best efforts to predict the demand for books, the magical spells we use sometimes fail us. So to check if we have the book in-stock before you place your order, contact us at 6702 2452 or drop us an email at myimaginationkingdom@gmail.com
Reading Level: 1+
Reviews:
"As an artist, art educator, and mom, I truly adore the work of Eric Carle. I love The Hungry Caterpillar. As a teacher, this was a classic for curriculum integration in kindergarten and first grade. My students loved making their own hungry caterpillars using paper towel tubes. This book is great for collage as well. Now though, I must admit to simply enjoying my son sitting in my lap as we read all the things the Hungry caterpillar eats and the tummy ache that follows. A great book for teachers as well new moms, grandparents, etc.
You just can't go wrong with Eric Carle."
"This book I own as part of my children's book collection; the opinion given here is my honest opinion.

The children in my preschool class have enjoyed this book since the start of the school year. Yesterday, a group of four children sat with the book and 'pretended' to read it to each other. All four children knew all the words from memory and they read it repeatedly to each other. It is a delightful book and simple so children soon learn the words to use it as a pre-reader using picture clues for the words. It also teaches about the way a butterfly starts as an egg and ends up after two other steps a butterfly. A great children's book is one that meets many needs of the reader and The Very Hungry Caterpillar is one such book for young children."
Click here for the original reviews
Related products