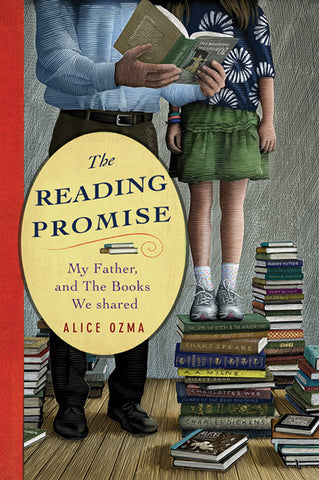 The Reading Promise: My Father and the Books We Shared by Alice Ozma (Paperback)
In this deeply affecting memoir, Alice Ozma tells the story of her relationship with the remarkable man who raised her through the words they shared and the spaces in between. When Alice Ozma was in fourth grade, she and her single father -- a beloved elementary school librarian -- made a promise to read aloud together for 100 consecutive nights. Upon reaching their goal they celebrated over pancakes, but it was clear that neither wanted to stop. They decided to continue "The Streak" for as long as they could -- until the day, a remarkable eight years later, Alice entered college.
*Despite our best efforts to predict the demand for books, the magical spells we use sometimes fail us. So to check if we have the book in-stock before you place your order, contact us at 6702 2452 or drop us an email at myimaginationkingdom@gmail.com
Reading Level: Parents & Teachers
Reviews:
"This is a true story of a daughter-father relationship, and of the love they share for literature. It will make you laugh, cry, and possibly rally for a cause. Great read."
"As a parent, grandparent, teacher, and book lover, I thoroughly enjoyed reading this book. It brought back wonderful memories of reading to my own children each night at bedtime with them snuggled in my lap (the perfect place for viewing the illustrations and following along with the text). My grandchildren have now taken over that special seating position and enjoy old books with tattered covers and musty smells that once belonged to their parents. In addition, my grown children and I continue to share the books we read and provide convincing arguments as to why it should be added to the must read list."
Click here for the original reviews
Related products