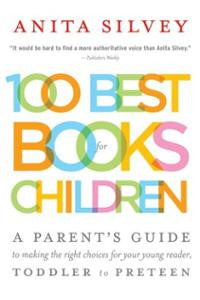 100 Best Books For Children by Anita Silvey (Paperback)
From classics to new favorites, 100 Best Books for Children "points parents in the right direction [to] 100 titles no child should miss" (Booklist). With thirty-five years of experience at the heart of children's publishing, Anita Silvey is better equipped than anyone to help parents make the right reading choices, given the enormous range of children's books available today. From board books to titles for older readers, Silvey narrows the field to 100 "best books," organizing them by age and providing essays on plot summary, along with fascinating insights into the story behind the story that only an insider would know.
Essential and inspiring, 100 Best Books for Children is a perfect handbook for parents who want to help their child develop a passion for reading that will last a lifetime.
*Despite our best efforts to predict the demand for books, the magical spells we use sometimes fail us. So to check if we have the book in-stock before you place your order, contact us at 6702 2452 or drop us an email at myimaginationkingdom@gmail.com
Reading Level: For Parents & Teachers
Reviews:
"As a former bookseller and librarian, I was often asked by confused parents and grandparents for book suggestions for children of a particular age. This wonderful book belongs on every family's bookshelf, not only because it will suggest the next good book to read, but because it gives a tantalizing look at the stories behind each book--and that always makes reading more fun. You're sure to find your own favorites here, as well as books you haven't come across. Even if you've read every one of these books, you'll enjoy the chatty tone of the book descriptions. I couldn't put the book down!
Looking for a book to give a new parent? A new grandparent? Think of this gift first--because you're expressing the importance of reading for another family. More importantly, buy it for yourself ... and enjoy!"
"When I first saw this book, I was expecting a list and not much more. But the depth and research that went in to this book is extraordinary! Anita Silvey even knew most of the authors and illustrators for these books personally - you can't get much closer to the sources than that! A delight to read, and full of insightful, delightful historical information and personalized anecdotes, this book would be a perfect addition to anyone's bookshelf, no matter what age!"
Click here for the original reviews
Related products