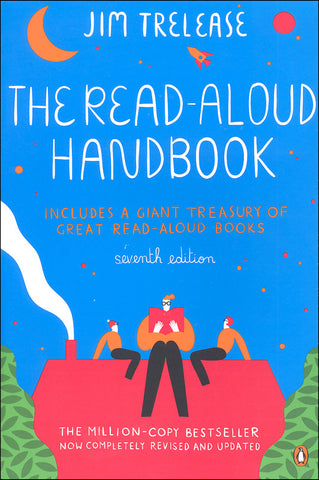 The Read-Aloud Handbook: Seventh Edition by Jim Trelease (Paperback)
A New York Times and million copy bestseller, the classic handbook on reading aloud to children—revised and updated
The classic million-copy bestselling handbook on reading aloud to children—revised and updated 
Recommended by "Dear Abby" upon its first publication in 1982, millions of parents and educators have turned to Jim Trelease's beloved classic for more than three decades to help countless children become avid readers through awakening their imaginations and improving their language skills. It has also been a staple in schools of education for new teachers. This updated edition of The Read-Aloud Handbook discusses the benefits, the rewards, and the importance of reading aloud to children of a new generation. Supported by delightful anecdotes as well as the latest research (including the good and bad news on digital learning),The Read-Aloud Handbook offers proven techniques and strategies for helping children discover the pleasures of reading and setting them on the road to becoming lifelong readers.
*Despite our best efforts to predict the demand for books, the magical spells we use sometimes fail us. So to check if we have the book in-stock before you place your order, contact us at 6702 2452 or drop us an email at myimaginationkingdom@gmail.com
Reading Level: For Parents & Teachers
"I am devoted follower of the Read-Aloud Handbook, and I thought for sure Jim Trelease was officially retired, so imagine my delight when this seventh edition appeared on Amazon! To make things even better, there is tremendous amount of new material in this edition. I have read the sixth edition front to back multiple times (I even did a blog series reviewing it chapter by chapter), and I have a copy of the first edition that I found at the used bookstore, but now I think I might have to invest in copies of editions 2, 3, 4 and 5 as well! Trelease really does replace at least 40 percent of the content and significantly revise the book list. This is definitely worth ordering if you already have a previous edition."
"Who Should Read This Book?
If you're a teacher or a parent you might be thinking "I read to my kids every single day, I don't need to read this book." And you would be dead wrong. There is so much more to Jim's message than just "read to your kids" - it only scratches the surface of this book. The author explores every single aspect of reading aloud thoroughly- and in my opinion with just the right amount of research balanced with personal stories, making it a relaxing and enjoyable read. If it was up to me this book would be required reading for every single administrator, politician, school board member, teacher, and parent."
Click here for the original reviews
Related products