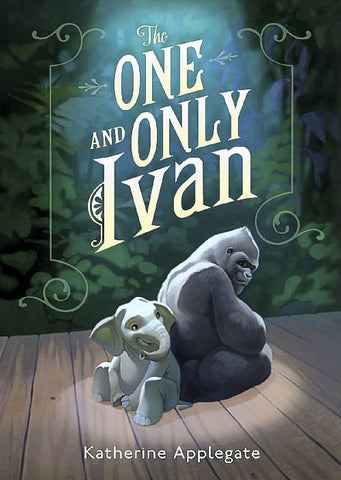 The One and Only Ivan by Katherine Applegate (Hardback) Winner of 2013 Newbery Medal
Ivan is an easygoing gorilla. Living at the Exit 8 Big Top Mall and Video Arcade, he has grown accustomed to humans watching him through the glass walls of his domain. He rarely misses his life in the jungle. In fact, he hardly ever thinks about it at all.
Instead, Ivan thinks about TV shows he's seen and about his friends Stella, an elderly elephant, and Bob, a stray dog. But mostly Ivan thinks about art and how to capture the taste of a mango or the sound of leaves with color and a well-placed line.
Then he meets Ruby, a baby elephant taken from her family, and she makes Ivan see their home—and his own art—through new eyes. When Ruby arrives, change comes with her, and it's up to Ivan to make it a change for the better.
Katherine Applegate blends humor and poignancy to create Ivan's unforgettable first-person narration in a story of friendship, art, and hope.
*Despite our best efforts to predict the demand for books, the magical spells we use sometimes fail us. So to check if we have the book in-stock before you place your order, contact us at 6702 2452 or drop us an email at myimaginationkingdom@gmail.com
Reading Level: 10-12
Reviews:
"This is the most fabulous story. Told from Ivan's voice it tells the life of a great ape who is a fish out of water.
Easy to see why it won awards. This book is excellent for adults and kids.
We enjoyed Ivan during his time at our zoo in Atlanta and his offspring are still here."
"An unlikely friendship between a Silverback and an elephant that captures the heart, while teaching perspective, compassion, and the power of a promise."

Click here for the original reviews
Related products