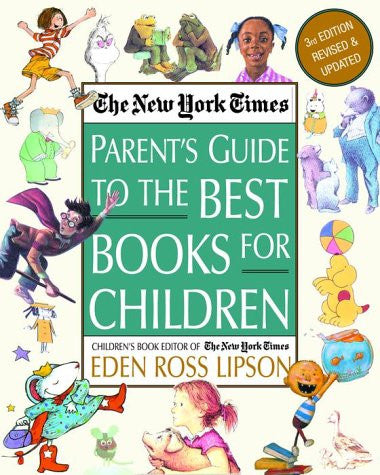 The New York Times Parent's Guide to the Best Books for Children by Eden Ross Lipson (Paperback)
The Classic Guide That Helps You Select the Books the Child You Know Will Love

In this third, fully revised and updated edition of The New York Times Parent's Guide to the Best Books for Children, the children's book editor of The New York Times Book Reviewpersonally selects and recommends books for children of every age. 

The most comprehensive and authoritative book of its kind has been completely updated for the new millennium. It contains hundreds of new entries, many expanded descriptions, and notations of additional companion and related titles -- more than l,700 in all. The best-loved classics of the twentieth century are included, as well as a thoughtful selection of outstanding titles from the last decade.

Six sections are organized according to reading level: Wordless, Picture, Story, Early Reading, Middle Reading, and Young Adult. In addition to a summary of the book, each entry provides the essential  bibliographic information you need to find a book in your local library or bookstore, including
        title
        author and/or illustrator
        hardcover and/or paperback publisher and publication year
        major awards
        related titles

The unique and most popular feature of the guide is its system of special indexes -- more than sixty in all. They make it easy for parents and grandparents, teachers and librarians, even
children themselves, to match the right book to the right child. Browse through the indexes and find titles for every interest and mood: picture books about cats, mice, or dinosaurs for babies; funny books to read aloud to toddlers; series about family life or school or fantasy adventures for a middle-grade child; books on divorce or death; and coming-of-age novels just right for someone starting junior high school. There are also indexes for books about minorities and religion, an age-appropriate reading-level index, and much more.

Lavishly decorated with more than three hundred illustrations from representative titles, the guide also features extra-wide margins for notes on which of your children liked which book, at what age, and why. Thus the guide becomes a family reading record as well as an invaluable resource you'll use again and again.
*Despite our best efforts to predict the demand for books, the magical spells we use sometimes fail us. So to check if we have the book in-stock before you place your order, contact us at 6702 2452 or drop us an email at myimaginationkingdom@gmail.com
Reading Level: For Parents & Teachers
Reviews:
"This book was exactly what I was looking for to find new books to read aloud to my children. It reminded me of books that I had read as a child, and suggested new ones that we have loved. In addition, I have a lot of new ideas for presents for my neices and nephews."
"I have one of these for myself, and gave one to my daughter-in-law. It's really meant for teachers and librarians I imagine, but I like seeing how the editors rate children's books according to age appropriate content and reading levels. It gets dated quickly with the wonderful proliferation of children's literature, but still this treasury is fabulous."
Click here for the original reviews
Related products