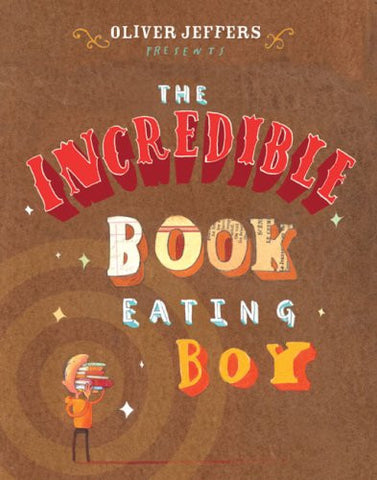 The Incredible Book Eating Boy by Oliver Jeffers (Hardback)
Like many children, Henry loves books. But Henry doesn't like to read books, he likes to eat them. Big books, picture books, reference books . . . if it has pages, Henry chews them up and swallows (but red ones are his favorite). And the more he eats, the smarter he gets—he's on his way to being the smartest boy in the world! But one day he feels sick to his stomach. And the information is so jumbled up inside, he can't digest it! Can Henry find a way to enjoy books without using his teeth? With a stunning new artistic style and a die-cut surprise, Oliver Jeffers celebrates the joys of reading in this charming and quirky picture book. It's almost good enough to eat.
*Despite our best efforts to predict the demand for books, the magical spells we use sometimes fail us. So to check if we have the book in-stock before you place your order, contact us at 6702 2452 or drop us an email at myimaginationkingdom@gmail.com
Reading Level: 5+
Reviews:
"A very strange story to this book but kids like strange! I read this to a class of year 2's and they were engaged from the very start. It's about a boy who one day decides to eat a book to become smarter. He starts of eating a word, a sentence and then a whole book. This part allowed me to ask questions on the elements/features of a sentence (Capital letters, full stop etc) to illicit the childrens knowledge.The book itself has a moral, a very obvious one that is to NOT eat books to get smarter. I stretched this further by linking becoming smarter to eating healthy (apples and bananas) especially at break/lunchtimes.The book itself has a corner of it 'chewed' off to add effect to the story. Children liked this and it's a good note to end the story on. Overall, it's short and sweet and can fill in 20mins for storytime."
"'The story is about a boy who decides to eat books in order to become smarter. He starts eating a word, a sentence then a whole book. This creates opportunities to discuss elements and features of sentences to encourage children's thinking. The story carries a moral that patience is a virtue and that perserverance is key to success.

It would be most suited for KS1-lower KS2 which could be used during circle time to prompt a discussion about the importance of not rushing and that the easy route is not always the right route to take if you want to be good at something. It can also be linked cross curriclular to food technology by asking the children what the boy would have to eat if wanted to become healthier. "
Click here for the original reviews
Related products